Tule kokeilemaan Taijin lempeitä harjoituksia käytännössä to 7.9. klo 14.15 Fysiogeriatria Matinkylään (Pyyntitie 5, Espoo).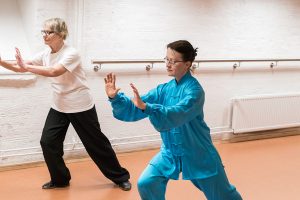 Taiji on lempeä aloitus liikunnalle. Tässä perinteisessä kiinalaisessa liikuntamuodossa hitaaseen, joustavaan liikkeeseen yhdistyy luonnollinen hengitys. Taijin avulla on mahdollista kohottaa kuntoa, oppia kehon ja mielen hallintaa sekä vahvistaa terveyttä.
Luento toimii tehokkaana johdatuksena Taiji-kurssille, joka alkaa to 14.9 klo 14.15-15.15 samassa paikassa. Kurssin hinta on 150 € / 10 kertaa.
Luennolle on vapaa pääsy. Tervetuloa mukaan!
Varaa paikkasi kurssille ja kysy lisää puhelimitse 09 392 2302 tai sähköpostitse info@fysiogeriatria.fi.